Eduardo de la Cruz Guerra, 2021
Mixed Media over Recycled Metal, Impressionist Expressionism Painting
Size: 95 x 200 cm / 37 x 79 in
Regular price
$1,600.00 CAD
Regular price
Sale price
$1,600.00 CAD
Unit price
per
Sale
Sold
"From the series Catharsis 2" by Eduardo de la Cruz Guerra is a portrait made of Mixed Media over Recycled Metal. 
The series of Catharsis is a reflection on the current economical climate on Cuba. Most of the series is made of Mixed Media over Recycled Metal or Recycled Wood, basically the drive to paint surpasses the lack of materials and resources. 
Cruz Guerra is a pioneer in the search to define his own style while also adding to the Cuban Culture by finding original ways to express himself that have not been properly explored in the arts scene. 
Shipping & Returns

All items are either shipped directly from Canada or Cuba unframed unless specifically requested. Artwork will be rolled and shipped out in a thick protective tube through available courier.

Please allow 2 to 3 business days for order processing. Shipment times will vary depending on location.

Return for orignal artwork must be done within 7 calendar days of delivery. Please get in contact with us to initiate a return.
Share
View full details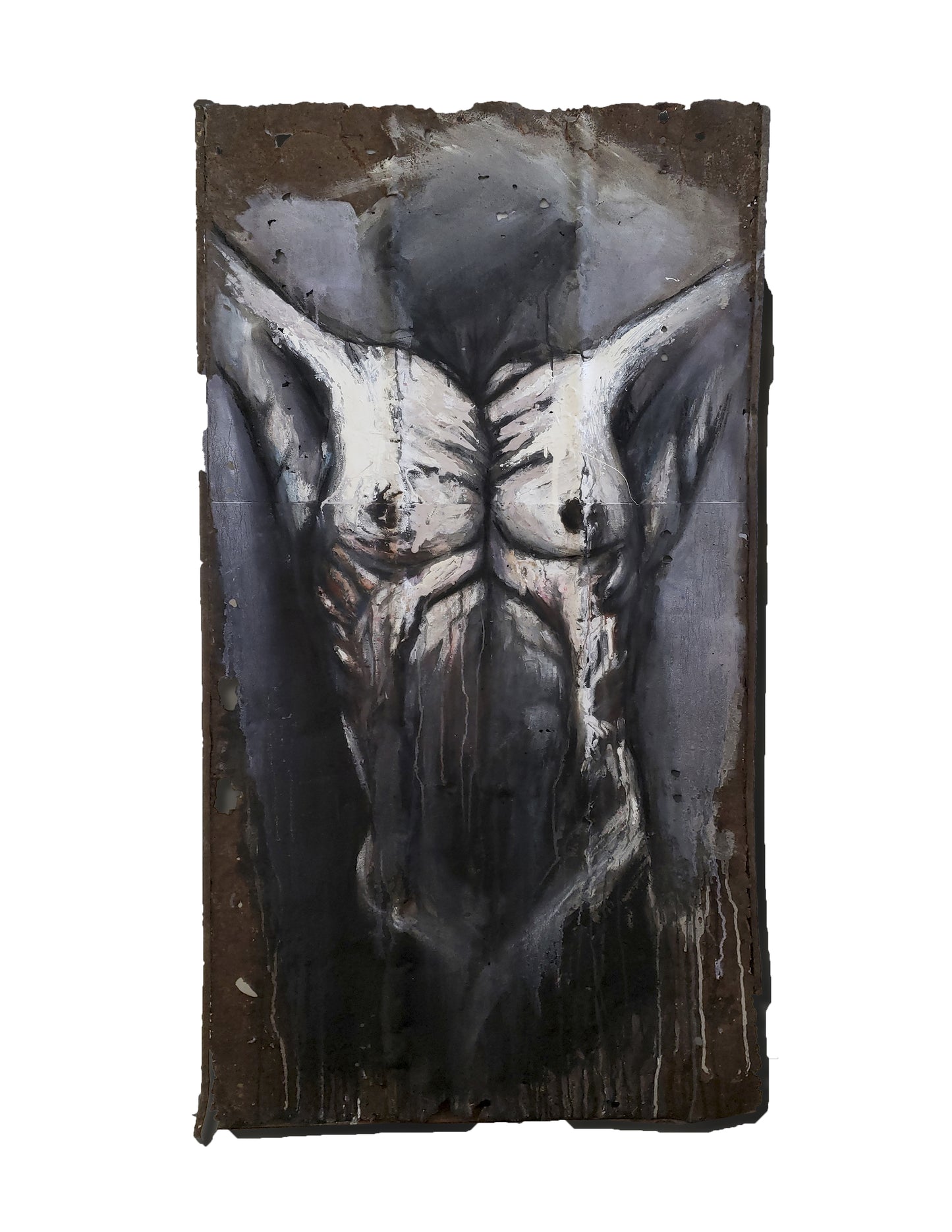 About Eduardo de la Cruz Guerra
The theme of black and race has been explored in the Cuban plastic arts since the 1700s, and either way in terms of race, racism, and humanity, previously ignored throughout history, penetrate the global social and artistic discourse of the Cuban nation. Even thought, in this case, I do not propose the deconstruction of the current situation of the "races" in the island, and the politics which the unequal social and symbolic injustices have clashed. The vision of my work, is a demonstration, less symbolic and less representative of a self phenomenon of the gratitude to my work, it is the strength of expression of the Afro-Cuban culture, and giving the world of all it's history.
For more information refer to his Curriculum Vitae.